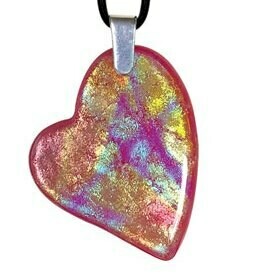 Pendants with Cremains in Hand Blown Glass
00066
Product Details
Brand:
Crescent Art Glass
Pendants keeps a loved one close to the heart by encasing a small amount of cremains in glass. Each piece features a multifaceted iridescent color scheme, reflecting many colors from different angles. Each Art Glass keepsake is handmade and therefore unique. Since each piece is a unique and hand-crafted work of art combining a loved one's cremains, the overall look and color variations may vary. Cremains are swirled on backside of pendant.
Pendants include a sterling silver bail and satin cord.
Oval, Teardrop and Heart and Side Heart Pendants available in Gold Topaz, Ruby, Blue Sapphire, Emerald and Cobalt.
The cremains are infused into these pendants and are visible from the back side.

Oval: 0.938" wide x 1.563" tall
Heart: 1.188 wide x 1.063" tall
Teardrop: 0.875" W x 1.375" tall
Side Heart: 1.125" W x 1.5" tall




Save this product for later