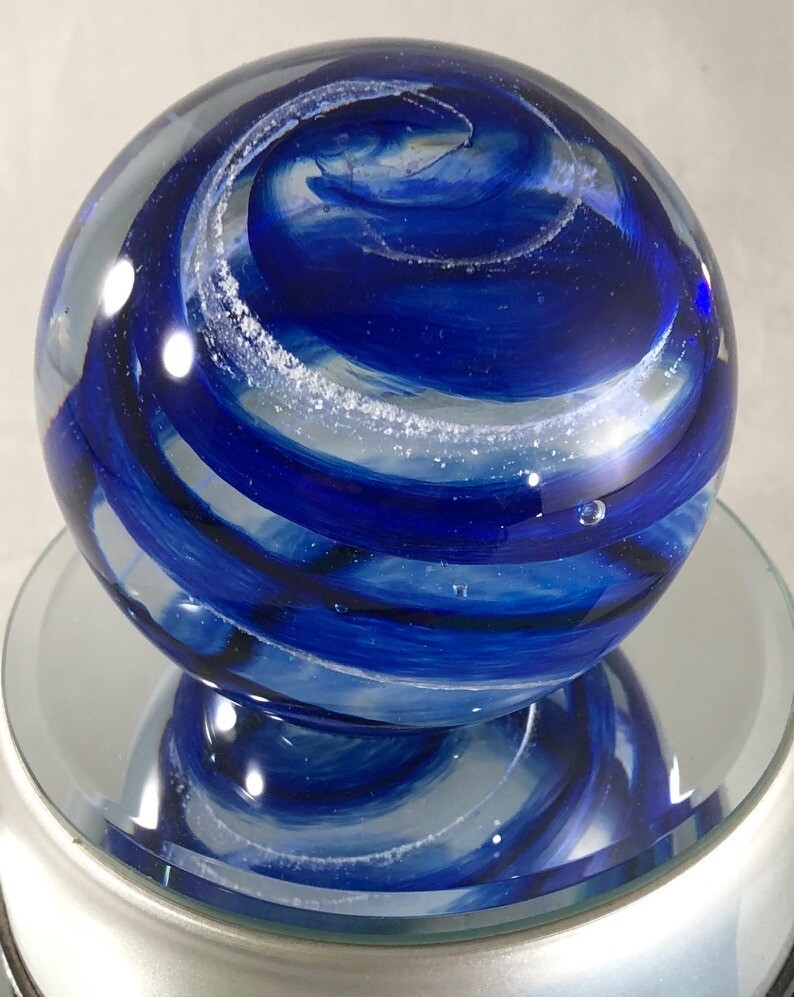 Hand Blown Glass Memorial Pieces
00094
Product Details
We are pleased to partner with a local glass artist who creates beautiful hand blown glass pieces to remember your loved one at a more affordable price. Adore, Harmony, Peace, Serenity, Solace and Tranquility and the Cherish stones are all custom designed. Color choices for these custom design pieces are as follows:
Black, Cerulean Blue, Copper Blue, Hyacinth, Gold Ruby, Opal White, Gold Pink Extra, Canary Yellow, Tangerine, Royal Purple, Lapis Blue, Lime Advenurine and Christmas Red.
Cherish Stones are not available in Canary Yellow or Tangerine.

Each hand blown piece will incorporate 2 colors and cremains with the exception of Harmony, which is created using only 1 color. As a natural process of glass blowing incorporating cremains, the cremains can have bubbles attached to them as the minerals in the cremains react with the glass. Each piece is a work of art, and no two will ever be alike, even if the same colors are selected. We feel this makes each created even more special in remembering your loved one.
Sizes are approximate since each piece is individually created.
Adore - A sculpted heart with twisted color layers intertwined with cremains to create this beautiful piece. Approximately 1.5" tall and 3.25" wide.
Harmony - A round shaped hand blown piece with one color. Cremains are swirled around the inner core in a cylindrical design . Approximately 2.75" tall and 2.75 " wide.
Peace - Two colors are combined together with the cremains to form a free form internal structural pattern on this round piece.
Serenity - This round piece features two colors swirled around the inner core then combined with the cremains to create a vertical stripe pattern. Approximately 2" tall and 2.5" wide.
Solace - A tear drop shaped design features colors combined with the cremains featuring a swirled and striped pattern. Approximately 5" tall and 2.5" wide.
Tranquility - Two colors are swirled around the inner core with the cremains to create a wide stripe of cremains encircling this beautiful round piece.. Approximately 2.5" tall and 3" wide.
Cherish Stones - Cherish Stones have cremains combined with up to two colors to create a unique keepsake you can carry with you or display. Approximately the size of a large coin.
Save this product for later