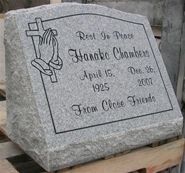 Granite Markers
00050
Product Details
Granite markers are a traditional memorial to be used either in your personal garden or a pet cemetery.
Available as flat markers, traditional uprights and slanted memorials in several colors of granite; Georgia Gray also known as Dixie Blue, Mahogany, Black, Salisbury Pink, Grey Cloud and Missouri Red. All engraving is done with sand blasting.
Prices do not include shipping, but all pieces weigh less than 100 lbs and ship FedEx Ground. Shipping is usually $30 or less.
Laser etching photos are available on black granite only for additional $45. Results will vary depending on quality and resolution of photo provided. Photo plates and porcelain tile insets available too.
Save this product for later