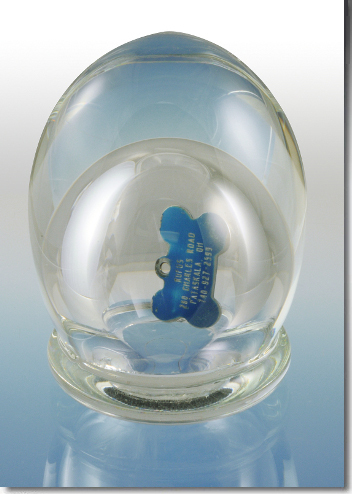 Embracing Eclipse Memorial Glass with encapsulation area
SKU 00025
Product Details
Embracing Eclipse was created as a way to preserve the perishable items that would be destroyed by the high temperatures of molten glass. Items like fur, collars, tags, toys, flowers and jewelry can now be showcased in a beautiful glass sculpture. The sculptures are blown with an opening at the bottom. Your precious keepsake is placed inside inside a hollow chamber in the sculpture and sealed close with a special U.V. light-activated glass epoxy; preserving your unique memorial forever.
Eclipse is 5.5" high & has an opening that is 1 1/2" wide.

Glass keepsakes are handmade using special coloring treatments during the creation process. Your memorial's color may vary slightly from the pictures shown.
Save this product for later