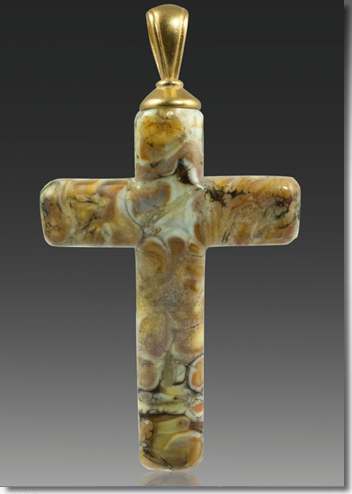 Cross Handblown Glass Pendant with Cremains
00031
Product Details
Our cremation jewelry lines come in several styles and colors that contain the actual ashes of your loved one. All of the bails and jewelry parts are 24k gold and sterling silver plated.
Lampwork or flamework is the term used to describe glass beads made by melting glass with a torch and wrapping it around a steel rod. The techniques used to form and festoon the glass haven't changed much since the first core formed vessels made in ancient Egypt.
Annealing is the process an artist uses to slowly cool the glass bead to ensure strength and durability and to keep the bead from sudden thermal shock. Beads are placed in the artist's kiln and cooled over time.
The Cross Pendant is available in large and is approximately 1.75" x 1" or small, approximately
1.25" x .75", not including the size of the bail.
Each pendant contains your loved one's ashes swirling throughout the pendant and is custom made to order. The pendant comes with a leather cord, is available in your choice of color, with a silver or gold plated bail.The color might vary slightly and the cremains in these tributes might be less apparent, since they are mixed into the multicolored glass.Custom colors available too.
Save this product for later