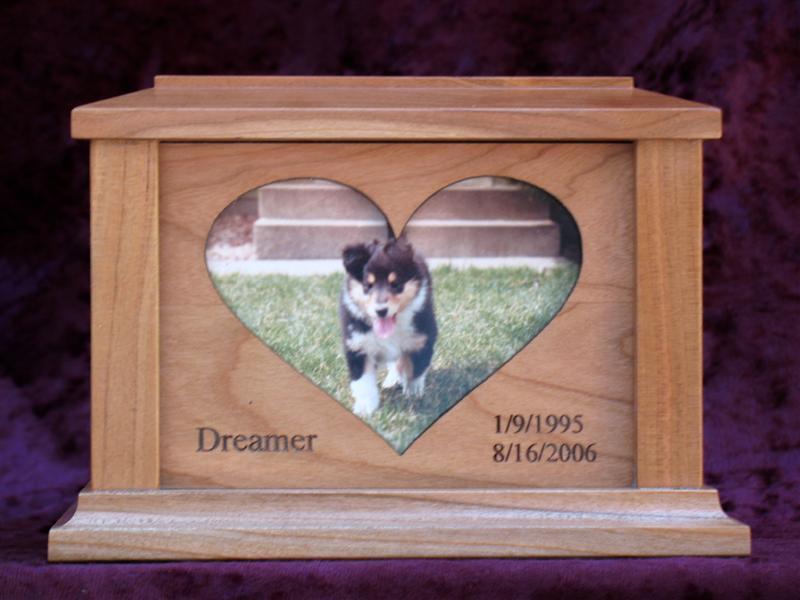 Country Woods Urns
00068
Product Details
Country Woods is a family owned custom urn maker located in Wisconsin. The urns feature a 'pop out' frame which makes inserting a picture user friendly. Simply slide the frame to the left and lift out the right side. This feature allows you to put the remains in behind the picture giving the urn a nice clean look without visible screw holes. You can also order additional frames to change the look of your pet's urn too.
The hardwoods available are: cherry, oak, walnut, and maple. The clear wood finish allows the natural beauty of the wood to show - products are not stained. Being a clear wood finish, wood grains and tones will vary making each urn as unique as your pet.
Natural cherry initially can be a light cream, tan, caramel, or pink color but darkens over time to a beautiful, warm, reddish brown color.
Oak can range from light to reddish gold. The grain of oak is typically straight with a coarse uneven texture. This particular wood grain can cause uneven engraving.
Maple ranges in color from creamy white, yellow /tan to a caramel tone.
Walnut is the darkest wood and can vary from pale brown to a dark chocolate color brown, usually with brown streaks in it. Some of the walnut may have a gray, purple or reddish cast to it.

The frame inserts are laser engraved and offered 8 different insert frames to choose from including rectangle, oval, 3 different heart options, and a double oval. Laser engraving services are available for those who would like to personalize the frame (with the exception of the rectangle), or the urn itself. Feel free to mix and match the wood of the urn with the wood of the frame such as a walnut urn with a cherry frame.

The urns are available in three sizes:
(Weight guidelines are based on when pet was at optimal health)
Small: 30 cubic inches/ 25 Lb pet, 6.56" x 4.31" x 4.63"
Medium: 70 cubic inches/60 Lb pet, 7.69" x 5.19" x 5.31"
Large: 120 cubic inches/110 Lb pet, 8.81" x 6" x 5.75"


Each of these include a oval , rectangle or large heart opening insert frame. Other insert frames are available for an additional charge.

Extra Large Urns
220 cubic inch, for up to 200 Lb pets, photo urns are available in oak or cherry featuring an oval frame and paw prints in 2 corners insert design. There are no other insert frame options available with this size urn. Urn cannot be engraved on top, back or side. Insert frame can be engraved on up to 2 corners for $15 additional.
Frame Insert Styles:
Inserts are available in the following designs:
Included with urn:
Plain Oval
Centered Heart
Rectangle (Cannot be engraved on insert)

$5.00 Additional:
Oval with paw prints
Forever In Our Hearts
Forever In My Heart
$7.50 Additional:
Vertical Heart with Paw Prints lower edge
Cascading Forever In Our Hearts with Paw Prints*
Cascading Forever In My Heart with Paw Prints*
Double Oval
* - Can be custom engraved in lieu of Forever In My/Our Heart(s) text for $10 additional charge.
Any others can be custom engraved on left side for $20 additional charge.
Insert frame pricing based on inclusion with the purchase of urn. Additional insert frames or those purchased separately are $10 additional.
Engraving
Laser engraving is available in two different type styles: Times New Roman or Monotype Corsiva. Monotype Corsiva looks best with upper and lowercase letters.
To see what your choice of text will look like, you can go to www.dafont.com and select one of these type styles to view.
Please indicate if you want the engraving in upper casing or upper/lower casing.
Please Note: Cherry, maple and walnut provide the sharpest engraving. Walnut can be harder to see the engraving on since it is a dark wood. Oak can be laser engraved, but it does not laser evenly and some parts of the lettering may be darker than others, due to the grain of the wood.
Proofs are not available.

Top, Side or Back of Urn Engraving:
Up to 5 lines can be engraved with 37 characters per line including spaces. The pet's name will be done in a larger font than the other lines so that it stands out. $15 for up to 3 lines. Each additional line is $10 per line. 220 Cubic Inch urns cannot be engraved on top, side or back.
Oval Insert Engraving:
On oval inserts, 3 lines per corner with 8 fonts including spaces per line is the available space to engrave. If your pet has a long name, it will be put on two lines. If room, the 2nd line will be indented. If not, it will be centered under the 1st line. Other messages will be divided to the 3 lines to fit such as Forever In Our Hearts would be done. Any dates will be changed to numerical due to space, 00/00/00. On Medium or large inserts, dates can appear as 00/00/0000. $10.00 engraving fee for up to 2 corners. Additional corners, $5 per corner.
Center Heart Insert Engraving:
$10.00 engraving fee for up to 2 corners. Additional corners, $5 per corner.

Forever In My/Our Heart Insert:
Text can be changed to custom engraving with approximately 8 fonts per line including spaces, and maximum of 5 lines for $10.00 fee.
Double Oval Insert:
Only 2 lines of engraving up to 8 fonts including spaces per line are available. $10 engraving fee.
Custom Text Engraving on Insert Frame other than Cascading Heart:
$20 fee. Engraving will appear on left side of insert frame.
Save this product for later