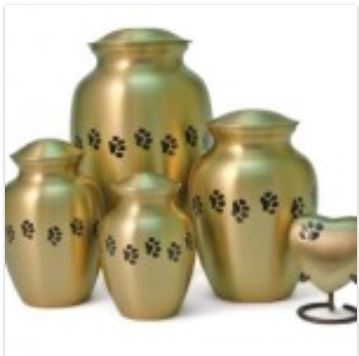 Classic Paws Urns in Bronze, Pewter, Slate and Raku
00074
Product Details
This Classic Paw urn series is handcrafted in brass with four choices of beautiful finishes. - Brass, Silver, Slate & Raku. The matching paw Heart Keepsake is perfect for families who want to share a portion of the family pet's cremated remains or for keeping some of the beloved pet's fur or even for a beautiful matching remembrance piece. A family size is also available and is a suitable resting place for multiple pets or an individual large pet. Threaded lid for secure closure.
Large Pet or Family Pet Urn: 10.4" x 6.1" Holds up to 190 Lbs
Small: 7.1" x 5.1" Holds up to 75 Lbs
Extra Small: 5.9" x 3.9" Holds up to 30 Lbs
Petite: 4.9" x 3.5" Holds up to 15 Lbs
Heart Keepsake: 2.9" x 2.7" Holds 5 lbs or less
Stands are included with each Keepsake Heart one in gold or pewter finishes on brass. 2.2" x 2.2" x 2".
Engraving is available by contacting us at info@rosepetmemorialcenter.com
Available typestyles are Arial, Eames, Eames Italics, Edwardian Script, Lucida, Mission Script, Neutra and Neutra Italics. All caps are not recommended for Edwardian or Mission Scripts. You can view these typestyles at www.dafont.com and typing in the font name. Proofs are provided prior to engraving.
Characters and number of lines are determined by size of selection.
Heart Keepsake 15 characters per line, 3 lines max
Mini Keepsake 12-20 characters per line, 2 lines max
Petite urn 20 characters per line, 4 lines max
Ex Small urn 30 characters per line, 4 lines max
Small urn 40 characters per line. 4 lines max
Medium urn 40 characters per line, 4 lines max
Large urn 40 characters per line, 4 lines max
Engraving cost is $20 for the first line and $5 for each additional line
Brass or pewter stand available for $15 if ordered at same time. Ordered separately $27


Save this product for later