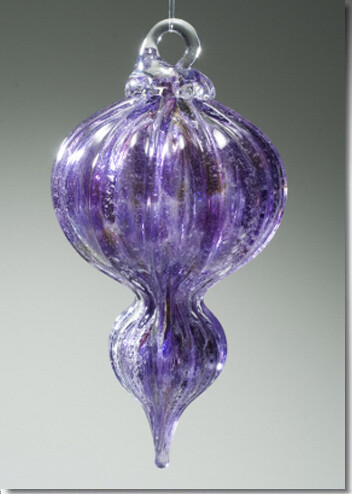 Christmas Ornament Glass Memorials
00030
Product Details
Your loved ones cremains are part of the glass used to create each individual ornament. When the glass is molten, the cremains carefully incorporated into the glass. It is custom made in the color that you choose from our available jewel tone list. All ornaments have a glass hook for hanging on a Christmas tree or, all year round as a window adornment, or an ornament stand. An additional fee applies for etching for up to 10 characters on the hook base. Iridescence can be added during the creation to give your special memorial extra sparkle; $40 additional.
The Timeless Sphere is 3.5" across.
The Solace Ornament is 5.5" high.
The Everlasting Icicle is 8.5" long
Our memorials come in recycled and non-recycled glass. The non recycled tributes can be made from our list of Jewell tone Colors:

Our recycled glass counterparts are all made in emerald green from 100% post consumer recycled glass from beer and wine bottles. Both product lines are equally beautiful and are a great way to memorialize a loved one.


How Our Memorial Keepsakes Are Made
All our memorial keepsakes are hand blown and sculpted in the U.S. by artists and hand signed. Molten glass is at temperatures over 2000 degrees which is a higher temperature then most cremation. When the glass is molten we incorporate your ashes carefully into the glass just like we would with glass color. Since glass is at a higher temperature then the ashes, the carbon is burned off and the ashes turn a brilliant white color in the glass.

After your hand blown sculpture is made we put it into an annealer where it will slowly cool back to room temperature over a twelve to forty eight hour period depending on the size of your pet memorial tribute.

Save this product for later