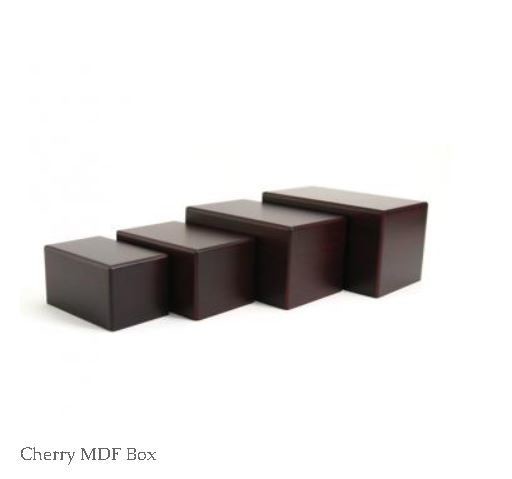 Box Urns - Cherry, Natural & Bamboo
CMBC
Product Details
These classic box urns are designed with a sliding panel and which is screwed shut for secure closure. Can be personalized with silver, gold or black name plaques or with engraving into urn and color filled with black or gold for an additional cost. Available in cherry and natural with MDF Woodlike Medium Density Fiberboard or in renewable Bamboo.
Large: Holds 115 - 175Lbs 9" x 6" x 6.25"
Medium: Holds pet up to 115 Lbs.4.9" x 8.3" x 5.4"
Small: Holds pet up to 75 Lbs 4" x 7.5" x 5"
Extra Small: Holds pet up to 35 Lbs. 3.5" x 6.5" x 4"
Petite: Holds pet up to 15 Lbs 2.5" x 5.5" x 3"
Laser engraving is available by contacting us at info@rosepetmemorialcenter.com
Available type styles are Raleway, Raleway Italic, Noto Serif, Noto Serif Italic, Arial, Edwardian Script, Lucida, and Mission Script, All caps are not recommended for Edwardian or Mission Scripts. You can view these type styles at www.dafont.com and typing in the font name. Proofs are provided prior to engraving.
Characters and number of lines are determined by size of urn selection.
Petite urn 20 characters per line, 4 lines max
Ex Small urn 30 characters per line, 4 lines max
Small urn 40 characters per line. 4 lines max
Medium urn 40 characters per line, 4 lines max
Large urn 40 characters per line, 4 lines max
Laser etching cost is $20 for the first line and $5 for each additional line
Gold, Silver or Black adhesive plaque available for additional $12
Photo printing available for $40 per urn
Save this product for later